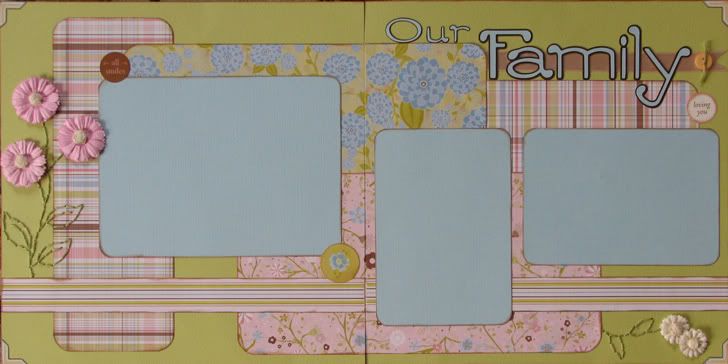 I bought the Bazzill In Stitch'z kit from HSN a couple of months ago and used it on this LO as the vines and leaves for the flowers on the left and the bottom right side. I really like what it added to the LO. The cardstock is Bazzill and the patterned paper and stickers are from Chatterbox. I bought some loose flowers from the local scrapbook store, and I am not sure what the brand of them are. The font for Our Family is cut with the
cricut with the Tear Drop cartridge. I just got this cart a couple of months ago and haven't used it until this LO and I really like it. I don't know what pictures I will put on it, but maybe this summer I will have some to put on there, or maybe after our new little bundle arrives.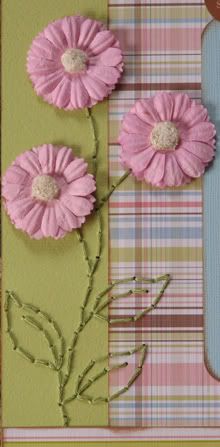 This is a close up of the left side with the stitching. It wasn't that hard to do, but it was a little time consuming.....kind of like doing a cross stitch project. In the kit there was a paper piercer, but you could use one you already might have. I liked the size of the piercing mat and they have quite a variety of templates to use. I only have the ones that came with the set, but I have my eyes open for more because it was fun and it added a lot to the LO.