So, Did you know that Saturday October 3rd is World Card Making Day??
Caardvarks
will be having some fun things to celebrate this holiday for us card makers as they post all day long....every hour on the hour.......so be sure the check it out.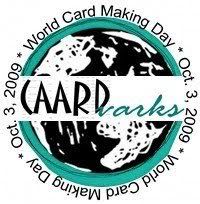 There are many bloggers that will be sharing their creations on that day and there is a blog tour that you can go from blog to blog to see many wonderful creations (click on the world below to find the list). Mine is included amongst the many at #86. You can come back here on Saturday and see what I have in store for you.
blog candy giveaway
. There is less than two hours to get your name in and I will draw for a winner sometime tomorrow.
I was going to share a few things with you for the last few weeks, but I have been so busy with other things, that I haven't had a chance, and so here they are.....
First is the 6x6 recipe page that I swapped with the other super talented ladies at the Utah Swarm I attended a few weeks ago. I created 12 of these to swap....
Cardstock, patterned paper, and spiral punch: Stampin' Up!
Rope border punch: Fiskars
Cut images done with my Cricut and Paper Doll Dress Up cartridge.
Next is the birthday cake I made for my little boy last month. When he saw his
sisters Barbie cake
back in March, he decided that he wanted mom to make him a WALL-E cake (he asked almost every week until his birthday) and so here it is......
For my baby girls first birthday, I made her this butterfly cake, but she didn't want to wait and dug right in for this picture....lol
I hope that you all are having a happy scrapping week and come back tomorrow because I have something exciting to share with you.
Hugs,